Climajo Sustainability Outlook Report 2023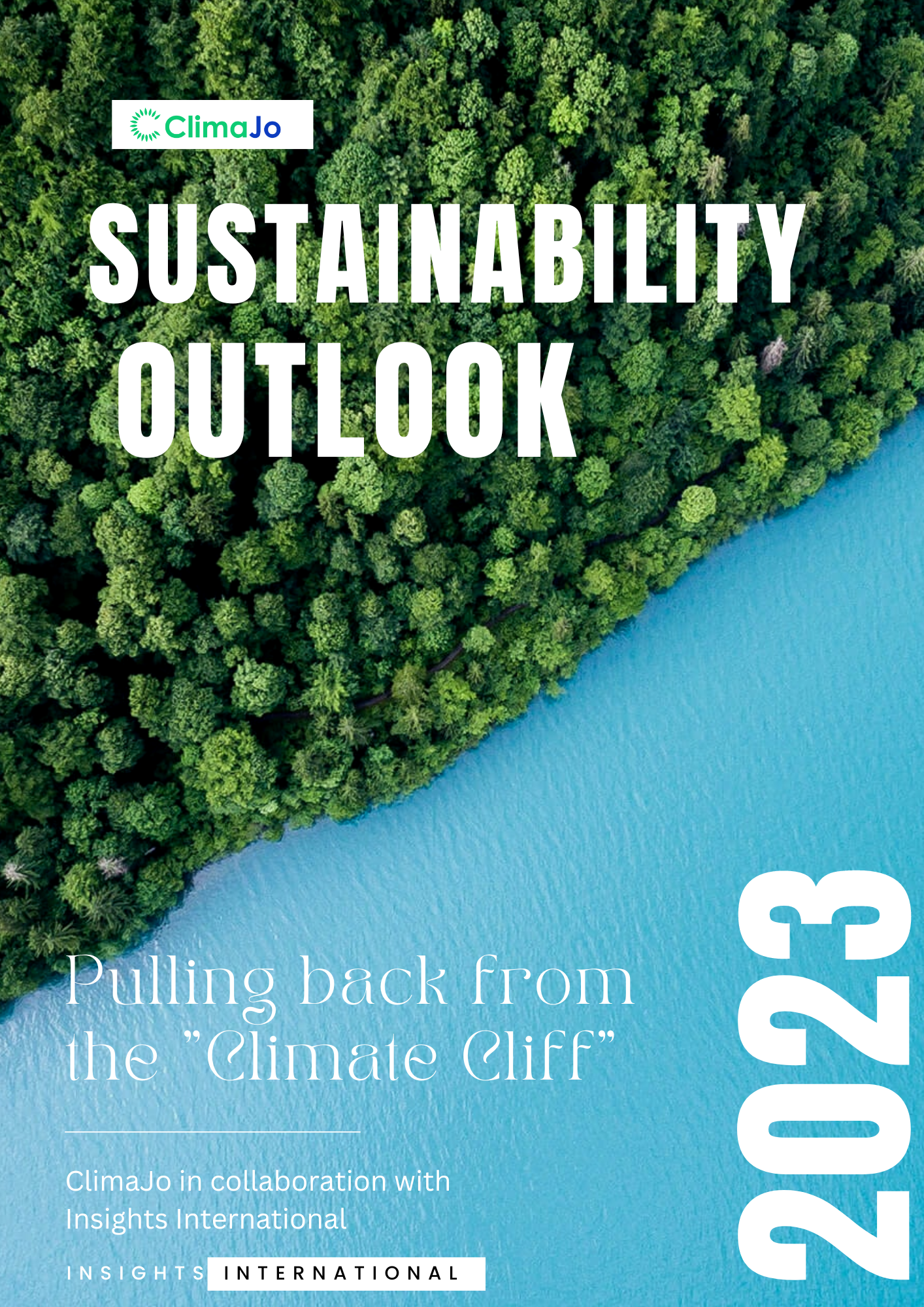 We are delighted to share the ClimaJo Sustainability Outlook Report 2023 with all of you.
At Climajo, we are building the eco-system to help businesses become more sustainable by helping build sustainable cross-border supply chains.
For this report, we have partnered with Insights International to better understand the key drivers to help us in our quest for sustainability. We are grateful to all the luminaries who were gracious with their time to share their expertise and views. We hope that you will be as inspired in reading this as we are in presenting this to you.
Ankit Srivastava
Co-Founder and CEO
Perspectives
We are grateful to all the luminaries and dignitaries who have participated in this report. Read some of their perspectives here.
I believe that developing countries should have more voice in the international sphere as they are more vulnerable to the impacts of climate change than developed nations.
- Jonathon Cummings
Member, Steering Committee, Associated Network of South-South Cooperation, Office of UN Office of South-South Cooperation
Energy efficiency and storage will be the biggest opportunity in 2023. Something I want to see more of in 2023 is more sustainable food options & to align goals and operationswith broader national and international sustainability targets.
- Giulia Marzetti
European Commission Expert on Renewable Energy & Senior Sustainability Consultant
We do not have an easy future, but nor are the hopelessness of doom narratives supported by evidence.
- Ilan Kelman
Professor of Disaster and Health, University College London
The theme of partnership for the greater good will take precedence over ego to allow for progress, and ethics will play a more prominent role in ensuring our advancements are used to benefit humanity.
- Shelli Brunswick
COO, Space Foundation
Social movements that make way for behavioral changes, while slow, are substantial to accelerate cultural and lifestyle transformation in line with sustainability. Decarbonization through electrification of transport, and blitzscaling of solar and wind power are all necessary in the move forward.
- Dr. Christopher Schwalm
Director, Woodwell Climate Research Center's Woodwell Climate Risk Program
I believe we have to be great in whatever we do. There is something bigger beyond our national interests - the survival of humanity and our Earth. Future development can and should be achieved only through a green approach.
- Ambassador Freddy Svane
Ambassador of Denmark to India
Within the climate change conversation, there is not a large focus and awareness of a sustainable economy. A sustainable economy cannot be achieved through a socialist model or where the power is at the center.
- John Dickson
President of the World Trade and Development Group and founder of World Trade Centers in Okinawa and Afghanistan
Tech is critical for the green revolution. We need to harness all the opportunities arising from the fourth industrial revolution, the combined power of energy, bio and IT revolutions.
- Erik Solheim
Senior Advisor World Resources Institute, Former Minister of Climate and the Environment of Norway
It is the responsibility of individuals and organizations to adopt sustainability as a way of life by adopting renewable & green technologies wherever possible.
- Manish Chaurasia
Managing Director at Tata Cleantech Capital Ltd
Climate change is a problem where the cost-benefit analysis is skewed in time--today's economic benefits come at the expense of future generations' costs and suffering-- and traditionally government and collective organization actions have been the only way to safeguard against that kind of problem.
- Prof. Baylor Fox-Kemper
Lead Author of Chapter 9 of the Sixth Assessment of the IPCC Report
Sustainability should be recognized in the political and public policies of governments. The pandemic has also highlighted its need more than whatever was done ever before.
- Shri Suresh Kumar (IAS Retd.)
Former Chief Principal Secretary of the State of Punjab, India
There has to be a better corporate mindset with an eye on the planet. Maybe that starts with a profound reckoning about our treatment of the planet and a new philosophical or spiritual understanding of the moral imperative to leave a sustainable planet to our offspring and the nature that will sustain them.
- Thomas Armbruster
Former US Diplomat
With systematic reforms, a balance of regulation and de- regulation will help accelerate the sustainable development agenda.
- Jasmine Mehta
Sr. ESG and Climate Corporate Consultant, Fellow Global Policy Insights, and Co-Chair Indian Women in International Relations
Many countries need to do more in terms of sustainable investment. Despite the geopolitical stressors such as COVID and the energy crises in Europe, the trajectory of investment in the sustainable arena is heading upwards.
- Dushyant Thakor
Senior Vice President at Invest India and Senior Advisor at WAIPA
Our political and economic systems will have to fully subscribe to the principles of sustainability and radically prioritize what is in the public interest.
- Wilhelm Krull
Chairman, World Trade Centers Association's Committee on Peace and Stability | Former Secretary General, Volkswagen Foundation
I think that each individual should adopt sustainable practices in their daily lives. I think each person who adopts sustainable practices will add up to produce a positive, cumulative effect.
- Curtis j. Raynold
Former Secretary, UN Secretary-General's Advisory Board on Disarmament Matters
We get water from nature. As human beings, we can hardly create water artificially. Water conservation is a mission that India as a country has given superior priority to.
- Sh Virendra Singh
Member of Parliament of India (Lok Sabha)
In 2023, sustainability will take centre stage. A clean environment is essential to create a sustainable future.
- Anil Jain
Member of Parliament Rajya Sabha at Parliament of India
Technology is not an impediment, but an enabler of the sustainability agenda.
- Ankit Todi
DGM Sustainability, Mahindra Group
The world we are moving towards is going to be technology driven.I believe, if we deployed available technology we might be able to maintain the current state of warming, even though it is not a sustainable solution.
- Amb. Retd. Anil Trigunayat
Former Indian Diplomat
When it comes to individual action for climate change, I would focus on the interaction of the individual with the service provider. Such an interaction has an impact on our lifestyles.
- Ajitabh Sharma
Managing Director, Jaipur City Transport Services Limited, India,IAS
It is the MSMEs and startups that will be leading the growth chart in the next century. Invest India is working towards capacity building in the MSME sector to fill the gaps in investment.
- Sujatha UG
Senior Advisor, WAIPA | Strategy Consultant, Invest India
We have to achieve the goal of 1.5 degrees celsius to achieve a sustainable future. For achieving this target, one of the low-hanging fruits that could be acted upon is the switch to electric mobility.
- Randheer Singh
Director - Electric Mobility and ACC Program at NITI Aayog | Member of Technical Advisory Group, TAG
To make progress we have to be authentic in what we do. Whether it is science-based targets on climate action or whether you're thinking about the impacts and the outcomes of the work you're doing across social development.
- Rishi Madlani
Head of Climate & Sustainable Finance | Bloomsbury Ward Councillor & Chair of LB Camden Pension Committee
A commitment to a zero-waste lifestyle is a message I would like to propagate. Making sustainable choices and putting them into practice can also help save money.
- Dr. Kapil Narula
Economic Affairs Officer at UN ESCWA, Beirut
Our climate problem is primarily an energy problem. Harnessing energy in electricity and in transportation is what improves the human living condition. it should be developed in such a way as to stop the destabilization of Earth's climate.
- Amber Polk
Teaching Fellow, Stanford Law School | Former Judicial Law Clerk, United States Courts
While sustainability is beginning to make business sense, individual choices will still shape demand and help create the market through sustainable practices. The choices around not using plastic, proper waste management, buying electric vehicles, and using public transport, are all going to shape the society of the future.
- Divya Sharma
Executive Director, Climate Group (Organizes Climate week New York and London Climate Action Week)
Climate change tips the scale unfavorably further towards developing nations. From a recovery perspective, we have to look at the micro and macro aspects of supply chain transitions to apply solutions that will lessen the gap between developed and developing nations.
- Isabella Bertani
Founder, BERTANI (named as Top 50 Women in Accounting Globally by Practice Ignition)
---
Participants
Jonathon Cummings
Member, Steering Committee, Associated Network of South-South Cooperation, Office of UN Office of South-South Cooperation
Giulia Marzetti
European Commission Expert on Renewable Energy & Senior Sustainability Consultant
Ilan Kelman
Professor of Disaster and Health, University College London
Shelli Brunswick
COO, Space Foundation
Dr. Christopher Schwalm
Director, Woodwell Climate Research Center's Woodwell Climate Risk Program
Ambassador Freddy Svane
Ambassador of Denmark to India
John Dickson
President of the World Trade and Development Group and founder of World Trade Centers in Okinawa and Afghanistan
Erik Solheim
Senior Advisor World Resources Institute, Former Minister of Climate and the Environment of Norway
Manish Chaurasia
Managing Director at Tata Cleantech Capital Ltd
Prof. Baylor Fox-Kemper
Lead Author of Chapter 9 of the Sixth Assessment of the IPCC Report
Shri Suresh Kumar (IAS Retd.)
Former Chief Principal Secretary of the State of Punjab, India
Thomas Armbruster
Former US Diplomat
Jasmine Mehta
Sr. ESG and Climate Corporate Consultant, Fellow Global Policy Insights, and Co-Chair Indian Women in International Relations
Dushyant Thakor
Senior Vice President at Invest India and Senior Advisor at WAIPA
Wilhelm Krull
Chairman, World Trade Centers Association's Committee on Peace and Stability | Former Secretary General, Volkswagen Foundation
Curtis j. Raynold
Former Secretary, UN Secretary-General's Advisory Board on Disarmament Matters
Sh Virendra Singh
Member of Parliament of India (Lok Sabha)
Anil Jain
Member of Parliament Rajya Sabha at Parliament of India
Ankit Todi
DGM Sustainability, Mahindra Group
Amb. Retd. Anil Trigunayat
Former Indian Diplomat
Ajitabh Sharma
Managing Director, Jaipur City Transport Services Limited, India,IAS
Sujatha UG
Senior Advisor, WAIPA | Strategy Consultant, Invest India
Randheer Singh
Director - Electric Mobility and ACC Program at NITI Aayog | Member of Technical Advisory Group, TAG
Rishi Madlani
Head of Climate & Sustainable Finance | Bloomsbury Ward Councillor & Chair of LB Camden Pension Committee
Dr. Kapil Narula
Economic Affairs Officer at UN ESCWA, Beirut
Amber Polk
Teaching Fellow, Stanford Law School | Former Judicial Law Clerk, United States Courts
Divya Sharma
Executive Director, Climate Group (Organizes Climate week New York and London Climate Action Week)
Isabella Bertani
Founder, BERTANI (named as Top 50 Women in Accounting Globally by Practice Ignition)
---
Download Outlook Report Here